PIAZZA ARMERINA
Situated in the Sicilian hinterland, at 721 meters above sea level, stands Piazza Armerina, a charming town originally founded by Arabs that is most famous for its Villa of Casale. In addition to its fine Norman and Baroque historic center, important museums, churches and palaces, Piazza Armerina offers a unique cultural celebration - the Palio of the Normans. Taking place every year in August for three days, this event includes a tournament with jousting knights on horseback in colorful costumes. The most significant medieval tradition in southern Italy, this event celebrates the conquest of Sicily that ended Arab rule and created the prosperous County of Sicily.
VILLA ROMANA DEL CASALE
Built in the 4th century as an elegant hunting lodge, the Roman Villa del Casale is home to some of the best preserved and extensive examples of Roman mosaics. These extraordinarily vivid tiles, probably produced by North African artisans, deal with many subjects, ranging from mythological scenes to portrayals of daily life and are made of pieces of finely cut stone, set into mortar for a smooth finish on the floor. The Chamber of the Ten Maidens, nicknamed the bikini girls, shows athletic girls exercising in scant two-piece red swimsuits.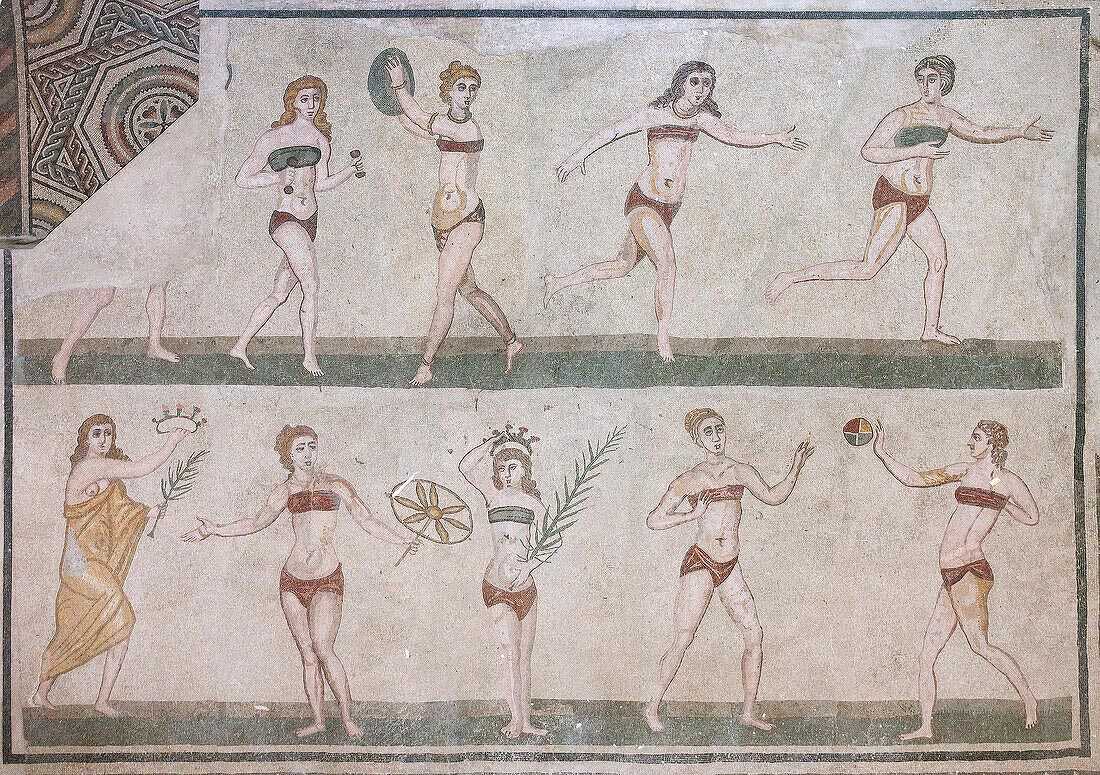 The Villa was built in four main sections: the entrance with its thermal baths, a peristyle with living area and guest rooms, the private rooms of the owner, and a basilica (public hall), dining area and elliptical courtyard.
CALTAGIRONE
Caltagirone is famous for its ceramics, with their swirling patterns, vibrant colors and detailed designs. Wherever you wander in the old town section of the city, you will see buildings decorated with ceramic tiles and shops displaying a beautiful selection of wares. Caltagirone's ceramic industry has thrived since the time of the ancient Greeks. This charming city is also home to churches, palaces, and elegant 18
th
century villas. For its architectural heritage, the historic center was awarded the title of World Heritage Site by UNESCO in 2002. Among the most important building are The Cathedral of San Giuliano, the Collegio Church, the Palazzo dell'Aquila, The Staircase of Maria Santissima del Monte, the Church of Santa Rita and Santa Chiara, the Palazzo delle Magnolie, plus many others.