How We Started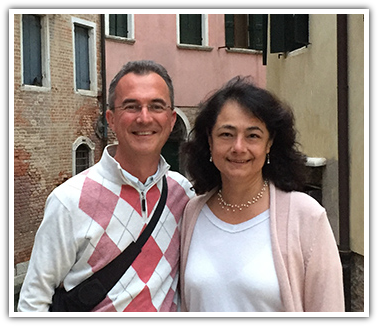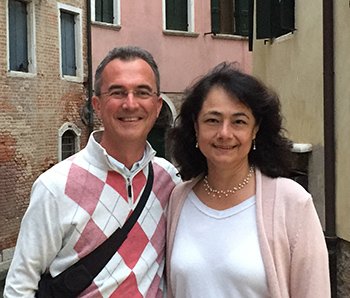 Tour With Us started with a love for one of the most beautiful countries in the world, a passion for creating culinary delights and a desire to share Italy's hidden gems with others.
While working as marketing director at Trattoria Milano, a restaurant in the Sierra Foothills, Stefano Landini encountered many people who asked about his background and place of birth, Milano. Interested in traveling to Italy, the clients also asked about places to visit, where to dine and what to see. Ecco qua! Stefano so enjoyed creating itineraries for their journeys that he realized how amazing it would be to take people to places that he loves.
Stefano started Tour With Us and his friend Gianfranco, Trattoria Milano's owner, partnered with him for the first journey. The travelers were thrilled with the tour, gave fantastic reviews and Stefano's wife, Perla, was inspired to join the venture.
Who We Are
Stefano Landini was born in Milano and raised in a family with a strong culinary background. Mamma Mari, Nonna (grandmother) Ida and Zio (uncle) Giuseppe were chefs. Some of his favorite memories are picking out recipes from his mother's cookbooks and preparing them for her when she came home from work. His grandmother owned a pizzeria and taught him many exquisite recipes, like his favorite one for gnocchi that he still uses today. Despite this, he decided to become a graphic designer, following in his father's footsteps. Stefano met Perla when he came to the United States to finish his studies. After getting married, they moved to Italy for several years, visiting marvelous, iconic sites and discovering some of Italy's hidden charms. Stefano has a knack for organizing and for taking care of people. Happy, smiling faces give him great satisfaction! He has a deep love for his home country and delights in showing others how incredible Italy is.
Perla Landini was born in México City where she studied literature and art history. From an early age, she developed a passion for traveling, art and languages and found in Italy the perfect setting to further fulfill her interest in these areas. Soon after getting married, she and Stefano moved to Italy where they lived and traveled extensively for several years before returning to California. Then, it was her turn to show Stefano her home country, in a deeper way, taking him off-the-beaten track to places tourists can't usually find. She is happy to share her love for Italy with you - its culture, language, traditions, history and all things Italian.
TWU, Tour With Us, Travel With Us, The Way To Travel.